water n.
a colourless, odourless liquid
Yet water, particularly a water surface, has so many wonderful effects which are often taken for granted, or not even noticed, by those whose very existence depends on it in everyday life...
For enquiries (including prices and availability) please contact Bill Pike
Bill Pike lives and works in Berkshire, England.
The images on this site have been produced by scanning 35mm transparencies using a slide scanner. The colours and quality of the images may not therefore be representative of the original paintings.
Cherry Blossom in the Nitobe Gardens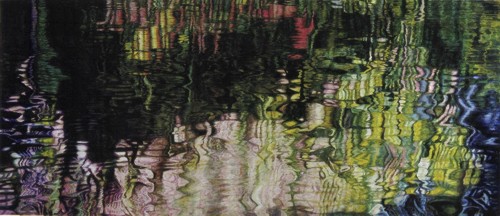 Size: 3.05m x 1.37m Status: Exported to The Robert Mugabe Hospital, Jeddah, Saudi Arabia Medium: Oils and copal varnishes on canvas
July to September 1981 'on the flat' in Vancouver, Canada Exhibited: 5, 6, 7
Spring comes about a month earlier to the British Columbian coast than to a similar latitude on the Atlantic seaboard. Before trees are in leaf 'back East', flowering cherry trees bloom in the ornamental Janapese-style gardens at the University of British Columbia, warmed by balmy Pacific breezes and pleasant sunshine.
To effect softer, translucent 'springlike' colours, mixtures of oil paint, copal varnish and pure turpentine were applied while the canvas was 'on the flat' with its four corners resting on chairs.