water n.
a colourless, odourless liquid
Yet water, particularly a water surface, has so many wonderful effects which are often taken for granted, or not even noticed, by those whose very existence depends on it in everyday life...
For enquiries (including prices and availability) please contact Bill Pike
Bill Pike lives and works in Berkshire, England.
The images on this site have been produced by scanning 35mm transparencies using a slide scanner. The colours and quality of the images may not therefore be representative of the original paintings.
A Grebe Fishing at Abingdon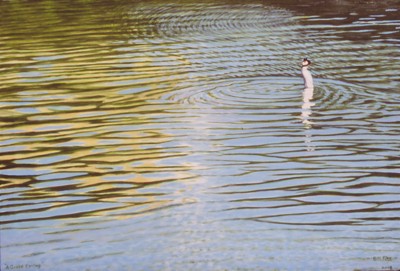 Size: 0.92m x 0.61m Medium: Oils on canvas
Sep 2008 Exhibited: 30
On a breezy Spring morning, I watched this Great Crested Grebe fishing just downstream of Abingdon Bridge. Its technique was to swim upstream, darting to and fro as if exercising (See No 268), before standing up in the water (as seen here, with the Old Gaol reflecting in the background) with its back to the wind and current, before plunging beneath the water surface diving for fish. Some seconds later it woudl re-appear again downstream, at a distance further away from the bridge.