water n.
a colourless, odourless liquid
Yet water, particularly a water surface, has so many wonderful effects which are often taken for granted, or not even noticed, by those whose very existence depends on it in everyday life...
For enquiries (including prices and availability) please contact Bill Pike
Bill Pike lives and works in Berkshire, England.
The images on this site have been produced by scanning 35mm transparencies using a slide scanner. The colours and quality of the images may not therefore be representative of the original paintings.
Memories: A Thunderstorm Begins In New Orleans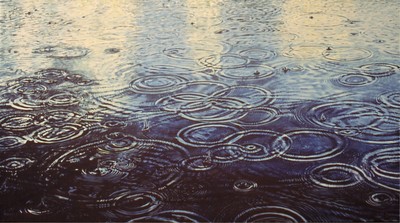 Size: 2.31m x 1.33m Status: Private Collection, Marlborough, England Medium: Oils on canvas
February to April 1981 in Vancouver, Canada Exhibited: 5, 6, 7, 8
A tremendous moment of great visual impact presented itself when the first large thunderstorm raindrops struck a mirror smooth bayou water surface in New Orleans! Memories recalls a moment of great clarity between the calm and the confused as the light faded in a pelting downpour of rain.
Impacts of experience may expand like spreading rings on water; intermingling and fading with time, but still leaving impressions...
Bright red underpainting in the picture's lowermost foot (0.3m approx) is intended to enrich the foreground colours, particularly the deep blues.