water n.
a colourless, odourless liquid
Yet water, particularly a water surface, has so many wonderful effects which are often taken for granted, or not even noticed, by those whose very existence depends on it in everyday life...
For enquiries (including prices and availability) please contact Bill Pike
Bill Pike lives and works in Berkshire, England.
The images on this site have been produced by scanning 35mm transparencies using a slide scanner. The colours and quality of the images may not therefore be representative of the original paintings.
The Skookumchuk Rapids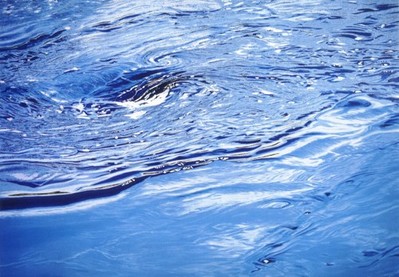 Size: 1.68m x 1.22m Status: Private Collection, London, England Medium: Oils on canvas
November to December 1981 in Vancouver, Canada Exhibited: 6, 7, 8
This locally famous reversing-tide race is seen here inits outlfowing phase into the Pacific Ocean near the Secheldt Islands in British Columbia. Apparently, the name comes from a native Indian word literally meaning 'fast water'.
A thin, undulating boundary-line is marked by a lineof small vortices (whirlpools seen in the right foreground) which form between two areas of upwelling. The distant water, which is flowing much more rapidly, is divided from the upwelling by a series of dark waves (in the middle distance of the painting). At this major boundary, larger eddy-vortices form to periodically split away and move off downstream with the faster flow.
This painting aims to capture these differences in movement of water, through using various thicknesses and differing applications of paint.